I've read a lot of good comics this year, and picking my top 5 comics of 2017 was no easy task. But it's worth it, because comics are amazing–right? Nod along if you love comics.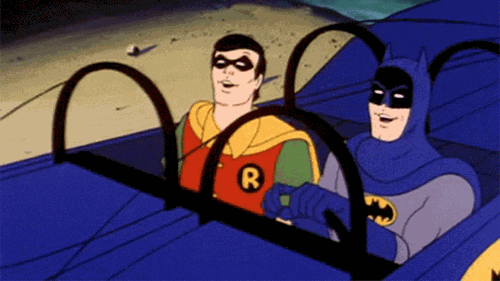 It's an eclectic mix this year of superheroes, sci-fi, and fantasy. The one thing they have in common, though, is that they're all incredibly fun reads! So here are five of my favorite comics that came out in 2017.
Motor Crush Vol. 1 by Brenden Fletcher, Cameron Stewart, Aditya Bidikar, and Babs Tarr
This comic was such a surprise for me. I just stumbled across it–and I'm so glad I did! Picture this: a world where racing reigns supreme. Domino Swift, upcoming Grand Prix hopeful and daughter of a racing legend, spends her days prepping for races and her nights competing in illegal street races for a prize more valuable than all else: crush, the machine-enhancing compound banned by the Producers. But Domino doesn't use the stuff to get an edge on the competition. She needs it to survive. With secrets from her past slowly unraveling, mysterious new figures threatening her, tension with the ex-girlfriend she'd definitely like to be a current girlfriend, and her ever-worsening illness (the same one that forces her to rely on crush), her standing in the upcoming Grand Prix race is the least of her worries.
It's a great, futuristic, racing adventure. A bit confusing at times (though that's not necessarily unexpected in a first volume finding its footing), but the art is gorgeous. And it's only the first volume–plenty of time for it to come into its own.
Liu and Takeda continue the gorgeous and haunting tale of Maika Halfwolf, a girl inhabited by an ancient (and possibly extremely evil) being and hunted by all factions of her world. This is one of the most inventively rich worldbuilding I've seen recently in a comic. And the stunning artwork by Takeda perfectly compliments the dark and magical tone of the story. The story–particularly in the first volume–can be a bit tricky to follow at times because of this, but it's worth it to muddle through those parts in the beginning. I can see them setting up really interesting and intricate storylines, and I absolutely cannot wait to see where the story goes in future volumes.
What happens when a great TV show ends before it's time? It's turned into a comic, hopefully! That's what happened with The Legend of Korra, anyway. The series–a follow up of sorts to the cult favorite Avatar the Last Airbender–is about Avatar Korra, the latest in the line of reincarnated Avatars that are able to control all four elements. The comic picks up where the series left off, with Korra and Asami finally taking a break from Republic City and all their responsibilities on a vacation to the Spirit World. But the real world won't wait for long, and as the two explore their burgeoning relationship, they have to return to confront a new organized crime ring wreaking havoc in Republic City.
I love that the comic still has the look and feel of the show. It really feels like an extension of the series, and I love that.
Ms. Marvel Vol. 7 by G. Willow Wilson, Takeshi Miyazawa, and Mirka Andolfo
Ms. Marvel is one of my all-time favorite comics, so no surprise that it makes my favorites of 2017 list. The artwork is so perfect, and, as always, a lot of relevant and sometimes difficult topics are handled with care and compassion. Ms. Marvel always emphasises understanding and empathy, which I think is incredibly important to see in a superhero comic, because it's the foundation all people in power–particularly with the power to hurt others–should lead from. It sets a great example. Not to mention a Pakistani-American Muslim girl fighting for truth and justice is a powerful image at the moment. I mean, just look at that cover art– you think that wasn't a very intentional choice? It's an important message for young people (and people of any age) everywhere, to put compassion first, to not judge others by their race or ethnicity or religion, to do right and to do good.
Clean Room Vol. 2 by Gail Simone, Jon Davis-Hunt, Quinton Winter, Todd Klein, and Jenny Frison
This creepy, supernatural mystery about the magnetic cult leader who may actually be trying to save the world from deadly unseen forces and the journalist alternately trying to expose her or help her really captured me. The second volume dives even deeper into the mystery, and really furthers the theme of questioning our assumptions and beliefs. The artwork is lovely and the storyline is fascinating. Every time I pick up a new issue of Clean Room I have trouble putting it down, and I'd say that's the mark of a good comic: it's unputdownable.
What were your favorite new comics of 2017? Any ones you think I should read or wish had made my list? Let me know in the comments!